Steel edge women of the opcmia
Cement Masons & Plasterers Local 528
MISSION STATEMENT
The Steel Edge Women of the OPCMIA is dedicated to the strategic retention and advancement of women by creating and maintaining an environment that recognizes, cultivates and utilizes the talent of its women members. Local 528 is dedicated to expand and create work opportunities to achieve long-term success.
The Beginning……
A motion was made on August 7th, 2018 at the General Membership Meeting for the formation of the Local 528 Women's Committee. The motion was overwhelmingly approved. On November 6th, the Women's Committee was tasked with organizing the 1st Annual Awards Banquet, which was held at the Snoqualmie Casino on April 20, 2019.
The Women's Committee typically meets on the last Monday of the month at 5pm. We all bring some food to share and with a light agenda, there is plenty of time to socialize and get to know each other during the meeting. This group will only be successful with the participation of the women in this Local. I encourage all of the Local 528 women to make the commitment of supporting all of us in this typically male trade
Tradeswomen Build Nations - 2019
2700 Women attended the Tradeswomen Build Nations Conference in Minneapolis this year, an event that is increasing in numbers every year. 25 women from the OPCMIA attended with 15 of them attending from Seattle. Other locations included, California, Portland, Boston, Chicago, Peoria, Milwaukee and, of course, Minneapolis.
Over the course of the 3-day event, there were 3 workshop sessions to attend. The main conference had the perfect number of speakers, including Sean McGarvey, President of NABTU and Vicki O'Leary, Chair of the NABTU Tradeswomen Committee.
This trip was launched with Sisterhood and shared experience in mind. It is always overwhelming and exciting to see so many tradeswomen, some familiar, but mostly new attending an event like this. We discussed recruiting and retention for women as well as, some of the challenges that still lay ahead.
I'd like to thank the membership for allowing me the opportunity to represent our Local Union and the OPCMIA at this important conference.
Marilyn Kennedy
Journeyman Cement Mason
Local 528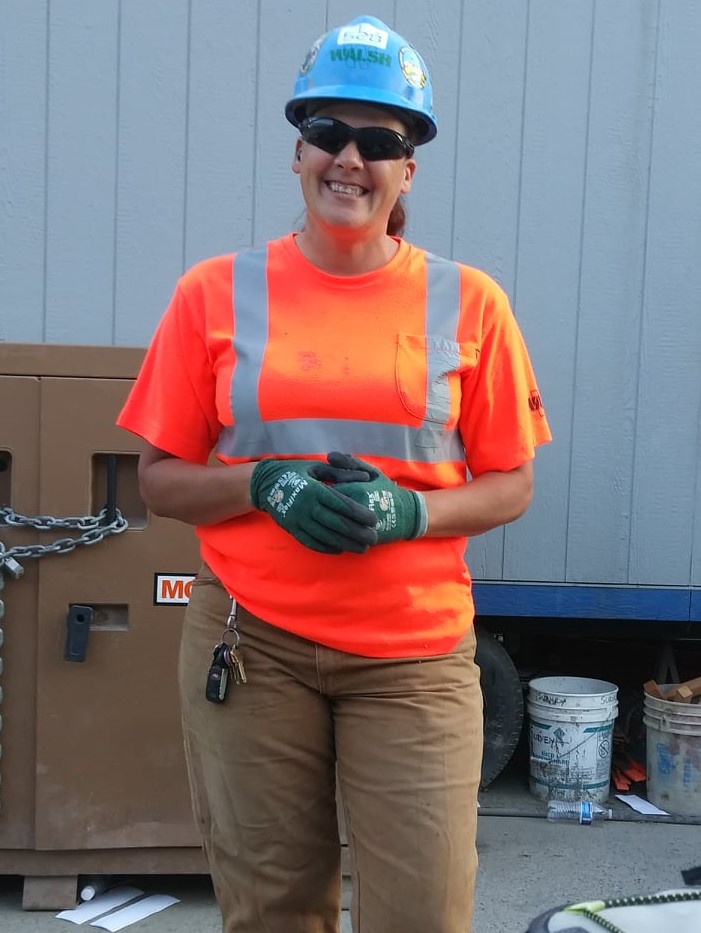 Danielle
Green -
Cement Mason
Danielle Green has been a member of Local 528 since April of 2000. Her Cement Mason brother, Richard Gregoire, was the motivator to join. During these hard times, she was trying to raise her 3 children while struggling to earn a living. She started with Larusso Concrete and then spent the next 10 years, on and off, with Mid-Mountain Contractors.
She comes from a blue collar, construction family with four generations of union workers. Danielle's Grandmother was a Rosie, her Dad a Cement Mason and her Mom a welder. Her son is a union operator. She has held a Foreman position at several different companies including Mortenson. Danielle is active with the Local and currently holds an Executive Board position.
Danielle is very generous with her time and always finds ways to give back to the community. She finds great satisfaction in donating her time to helping the elderly and those in need.
"I'm in construction not because I'm building a building; I get to build hospitals, churches and schools."
Roxana Orozco has been a Local 528 Plasterer since September, 2012. She was working as a server at Olive Garden and decided she wanted a job that offered variety, working outdoors and working with her hands. The waiting list for the Carpenters was too long, so she looked to the Cement Masons. Frank Benish directed her to the Plasterers for better job opportunities at the time. She loves the ornate aspects of being a Plasterer and has become very well rounded working at PCI. She worked on the King Street Station, the Space Needle and is currently working on the retrofit of the Seattle Town hall building.
Roxana loves working out, backpacking, cooking and she is an avid reader.She has recently become engaged and will be getting married this August. Roxana and her fiance are looking forward to starting a family.
Marilyn Kennedy- Cement Mason
After working for 12 years at different retail jobs, my good friend asked me if I'd like to come work for them at their small business. I didn't really know what her husband did for a living but I was adamant about changing professions. In 1995, I started my Apprenticeship making more than I had been making in retail. As my wages increased, I became financially independent and was able to raise my 2 children on my own terms. After being a Union member for about 6 years, I decided that I was going to attend my union meetings on a regular basis. Within 6 months, the Business Manager was having me fill in for the Recording Secretary and I was eventually appointed to the position. I have held the position for 17 years, running unopposed for each term. Holding this position helped prepare me for my interview for my current Business Agent position.
In the field, I spent the last 13 years at the Conco Company and was a Foreman there for the last 10. I have been the President of my HOA for the last 13 years, and active on that Board for 17 years. My daughter is a Journeyman Cement Mason and my son is a vertical Foreman Carpenter.
I am passionate about introducing our craft and this opportunity to young people, particularly women. I actively solicit women coming out of incarceration and I participate in the trade shows that are targeted toward women. I was awarded a Lifetime Achievement Award in 2017 by the Washington Women in Trades organization. (I am clearly much too young for such an award!!) Helping to create a space for women at the International level would be a satisfying career achievement!"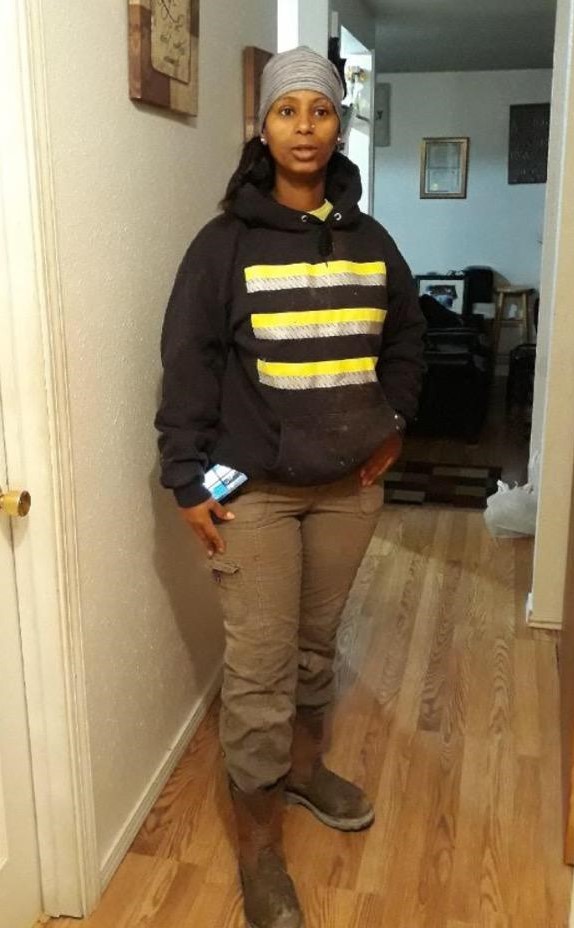 Giday Adhanom Cement Mason
Before entering construction, Giday Adhanom was a nursing assistant and was advancing in the medical field. Giday completed ANEW, which is a program dedicated to improving the access and advancement of women in non-traditional career pathways. She became a member of Local 528 in 2005. She took a break in service in 2009 to have her third child. She came back into the trade in 2013 and became a journeyman in 2014. Giday is a well-rounded Cement Mason and has worked on many large projects in the Seattle area.She is a devoted mother of three children.She volunteers her spare time with different organizations including Village of Hope and BPC, (Black Prisoners Caucus.)She also a coaches for the Boys and Girls club. She is currently taking classes related to Project Management.
Check out our YouTube channel and subscribe, one of the many places we showcase our women in the trades.
Follow us on Instagram! To see trade related pictures of Local 528 Members.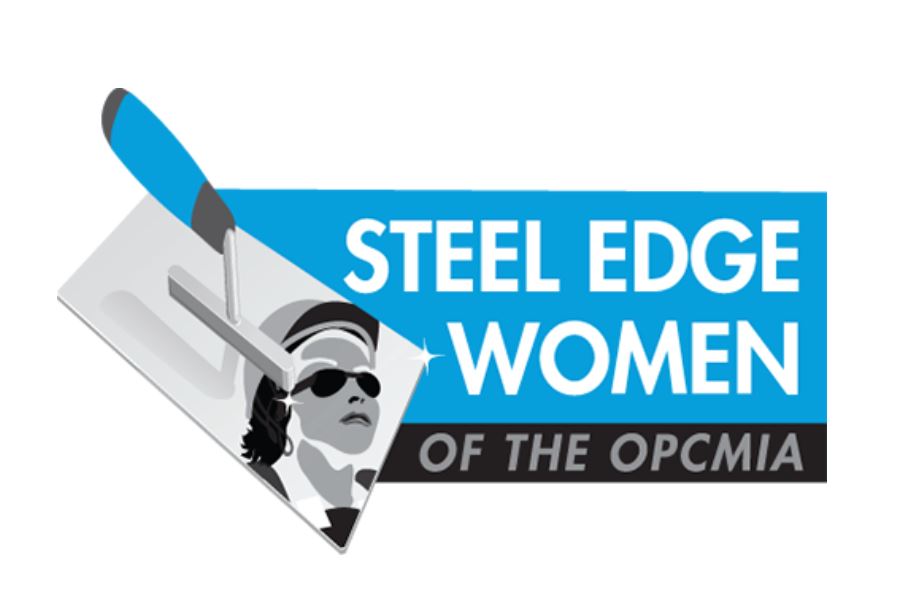 International Women's Committee
Seattle, Local 528 submitted a Resolution to the International requesting the formation of an OPCMIA International Women's Committee. We are anticipating that this Resolution will be brought to the floor at the International Convention in August and passed by the delegates. Women from a number of Locals have been meeting via teleconference to work on Women Committee presentations at the Business Manager's Meeting, format ideas for the International Steel Edge Women web page and long term goals for this long overdue committee.
Look for the launch of the International web page as early as August, after the Convention.
Washington Women in Trades
Standing monthly meeting. The third Thursday of the month, 6 pm. At Alaskan Copper, 2958 6th Ave. S. Seattle
Apprenticeship tryouts that we typically hold in the spring & Women are encouraged to apply!
Apprenticeship and non traditional employment for women, ANEW is the oldest, continuously running pre-apprenticeship program in the nation with a unique and successful reputation for training people, primarily women, to enter the construction industry.
ANEW partners with over 17 apprenticeship programs in the Puget Sound region.
Trades Related Apprenticeship Coaching, a program that gives opportunity to women who are transitioning from the justice system.